Otolaryngology (Ears, Nose & Throat)
Otolaryngology (ENT) is a medical specialty focusing on disorders in the ear, nose and throat. Our ENT specialists provide care for a wide range of disorders related to the sinuses [1], including sinusitis [1], as well as hearing, balance [2], smell, taste, voice, speech and language.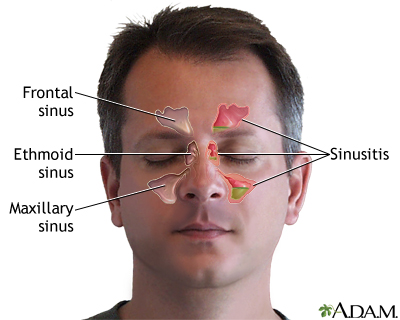 Pediatric and Adult Otolaryngology (ENT)
Head and Neck Infections, Cysts, Lesions, Masses
Allergy
Nasal Obstruction
Hearing Loss
Vertigo
Throat and Ear Infections
Tonsillectomy & Adenoidectomy
Sinus Disease
Foreign Body Removal
Trachetotomy
Parotid Surgery
From the common to the complex—medical and surgical treatment of the ears, nose, throat, head and neck.
Nose and Sinus (Rhinology)
• Allergies
• Disorders of Taste and Smell
• Nasal Obstruction (including polyps)
• Sinusitis and Other Respiratory Infections
• Sleep Apnea [9]
• Snoring Problems
• Tumors of the Nasal Cavity and Sinuses
Hearing and Balance (Otology)
• Acoustic Neuromas
• Cochlear Implants
• Conductive and Sensorineural Hearing Loss
• Ear Infections
• Glomus Tumors, Cholesteatomas and Other Tumors of the Ear and Brain
• Meniere's Disease
• Otosclerosis
• Tinnitus
• Vertigo
Vocal Apparatus (Laryngology)
• Cysts
• Hoarseness
• Laryngeal Cancer
• Papillomas
• Spasmodic Dysphonia
• Throat Infections
• Vocal Fold Nodules
Head and Neck Surgery
• Foreign Body Removal
• Infections, Cysts, Lesions and Masses
• Nasal Tumors
• Parotid Tumors and Disorders
• Thyroid Tumors and Disorders
• Tracheotomy
• Tumors of the Mouth and Throat
• Tumors of the Larynx
Cosmetic and Reconstructive Surgery
• Botox™ Injections
• Facial Fillers (RestylaneTM, JuvedermTM)
• Mole Removal
• Repair of Torn Earring Holes
• Scar Revision
• Chin Liposuction
• Eyelid Surgery (cosmetic & eyelid malpositions)
• Facelift and Forehead Lift
• Facial Implants
• Facial Trauma (fracture repair, laceration repair)
• Keloid Treatment
• Nasal Reconstruction
• Protruding Ears (ear pinning)
• Skin Cancer Reconstruction
Pediatric Otolaryngology
• Adenoid and Tonsil Surgery
• Congenital Hearing Loss and Deafness
• Cosmetic Surgery for Protruding Ears, Facial Deformities and Facial Trauma
• Ear Infections
• Neck Masses
• Sinusitis
• Throat Infections
Download the ENT Brochure! [13]

Appointments
718.250.8520
Location
Maynard Building, 9th Floor
Languages
English and Spanish. Free Interpreter services are available for many other languages.
Insurance
Most major insurance plans [14] are accepted.
ShareThis